Access your events from multiple devices with dslrBooth's sync feature. When creating an event, the event along with settings and any assets such as templates, backgrounds, and overlays will upload to the cloud when connected to the internet. Events can be synched across multiple machines while using the same fotoShare account, including accounts with multiple serial numbers.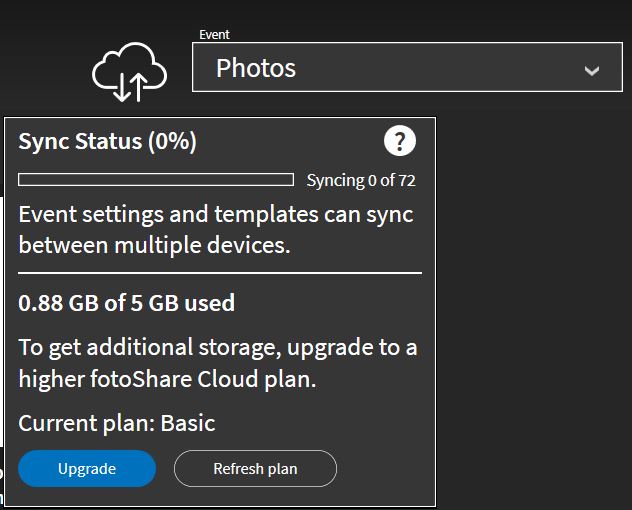 Create your event on your main computer at home. Once created, the event with all assets, will sync to the cloud allowing you to access the event on all devices running dslrBooth with the same fotoShare Cloud account. If you're only using one device, the event syncing can also serve as a cloud backup of events. If you have an issue with a computer at an event, you can quickly use a different computer as dslrBooth will seamlessly synch all your events. The status of the event cloud sync will appear in the top bar of dslrBooth as well as in the saved events screen.
Syncing will only occur when not in full screen and once the settings windows (settings, template editor, green screen, etc) is closed. This feature is available to users with an unexpired license.
When upgrading to version 38 of dslrBooth it can take a few minutes for the syncing to occur. This will only happen when first updating to version 38.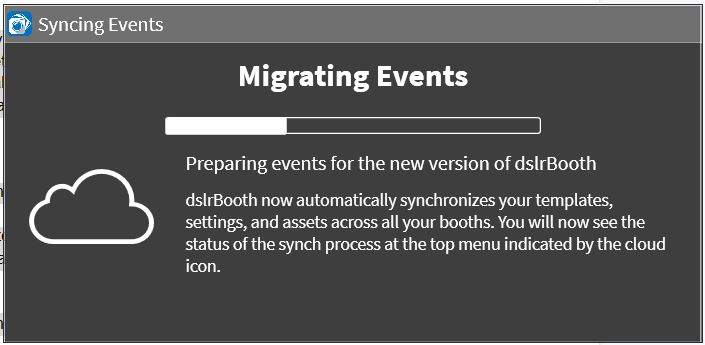 Including event settings, the following will be synched:
Templates (making changes to a template will change it for all events. It is best to create a new template for your new event instead of copying a template and making changes to it)

Green screen backgrounds and overlays

GIF overlays

Virtual attendant mp3s/mp4s

Start screen images

Say cheese images

Effects

Video Overlays

Digital Props

Watermarks
Note: It is very important that you do not change files in AppData\Roaming\dslrBooth folders. Doing so will have severe consequences to the way the application works.
This feature will be available to users with an active license.