Slow Motion Settings | Supported Cameras | Recommended PC | Recommended Hardware
dslrBooth Slow Motion Settings
Create a one of a kind video using dslrBooth's new feature perfect for 360 booths and other short slow motion and video experiences. Features are available in v6.40+. See here for a video on how to use 360 features.
New features include:
Slow down/Speed up and reverse multiple clips in same recorded boomerang.
Capturing at a high frame-rate.
Adding an overlay, pre-roll and post-roll video, and a backing soundtrack.
Start boomerang session recording by moving the iPad or iPhone, useful for manual 360 spinners.
High FPS Capture.
Camera Stabilization for boomerang and video sessions.
Use iPad/iPhone Pro's ultra-wide cameras and set zoom.
Reverse and Slow down/Speed up video clip
Choose the overall length of the video using the Recording Duration slider. You can choose to playback the recorded video either forwards only or forwards then in reverse. Choose to speed up or slow down the video. This applies only when using a single clip.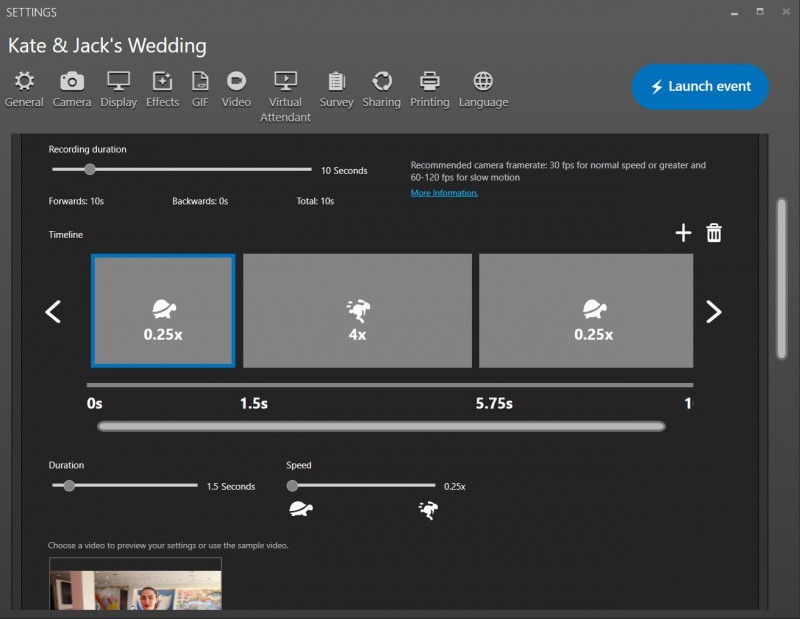 Click on the Preview button to see an example of how the different speeds will affect your video.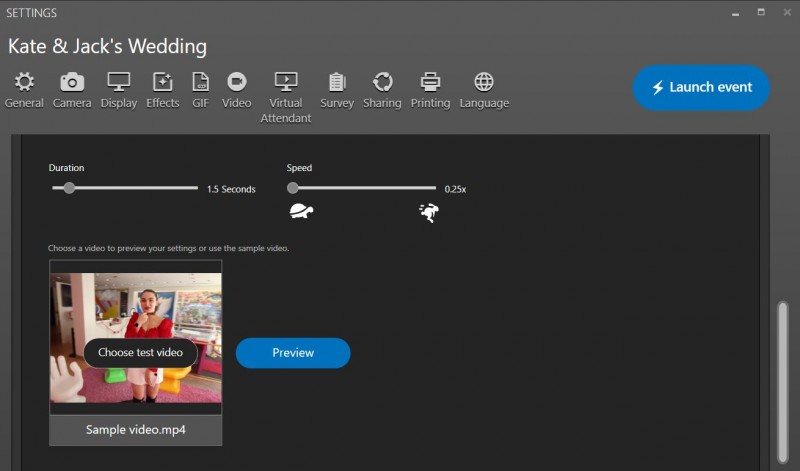 Note: You can break down the recording into multiple clips however if doing so the video will only playback at regular speed when using multiple clips.
Soundtrack, Overlay, Pre-Roll & Post-Roll
Customize your video by adding a soundtrack, overlay and pre and post roll video to your video. Using asset manager select from mp3s, mp4s and png files.
Video Size
Select the size of your video in Settings > Video by clicking on the dropdown or manually typing in your video size. The dropdown will display several sizes including 720x720 for Square videos.
Increased Video, Boomerang & GIF Quality
The generated videos for Video, Boomerang and GIF sessions are now in a much higher quality with a smaller file size so your videos can look their best and upload faster.
How-to switch Canon/Nikon cameras to high frame-rate mode
Canon cameras
Set you camera dial to Video Mode

Press on the

menu

icon of the camera and choose the

Camera icon > Tab 1

.

Tap on

Movie Rec Quality.

Tap on

High Frame Rate

and choose Enable.

Select Ok

to save the setting.
Nikon cameras
Press on the

menu

icon of the camera and choose

Movie Shooting

settings.

Choose

Frame size/frame rate.

Choose the frame rate that you desire. For high frame rate choose

1920x1080 120fps.
Recommended PC
Processing videos is a very CPU-intensive process which is why we highly recommend you use a PC matching our Hardware Requirements.
Recommended 360 Platforms
See our detailed how-to setup 360 including platform recommended vendors.
Supported High frame-rate Cameras
120 fps (and 60 fps)
Shooting at 120 fps, you can slow the video up-to 25% of the original speed. These are the cameras we recommend if you will be using slow-motion for many of your events.
GoPro
The main advantage of using a GoPro is its small size and wireless connectivity as it makes for an easy set-up. We recommend the GoPro 10 or the latest model you can find available.
GoPro Hero 11
GoPro Hero 10
GoPro Hero 9
GoPro Hero 8
GoPro Hero 7
GoPro Hero 6
GoPro Hero 5
Canon
Canon EOS 5D Mark IV (Limited to 1280x720)
Canon EOS M50 Mark II (Limited to 1280x720)


Nikon
60 fps
Shooting at 60 fps, you can slow the video up-to 50% of the original speed.
Canon
Canon EOS 5DS R ( Limited to 1280x720)
Canon EOS Rebel SL1 ( Limited to 1280x720)
Canon EOS Rebel T7 ( Limited to 1280x720)
Canon EOS Rebel T5i (Limited to 1280x720)

Nikon
Nikon D610 (Limited to 1280x720)
Nikon D500 (Limited to 1280x720)
Nikon D5300 (Limited to 1280x720)
LumaShare Sharing App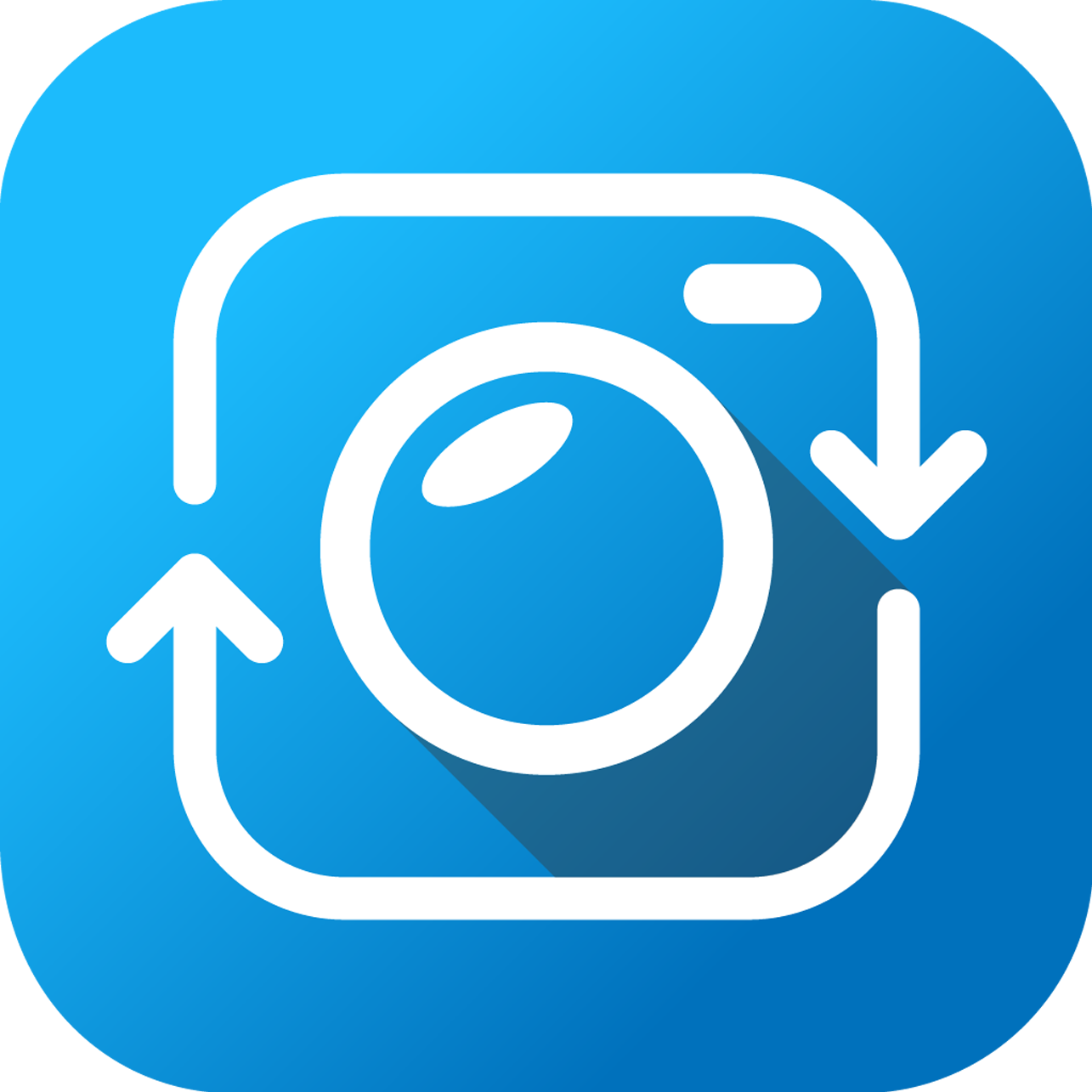 Connect dslrBooth to LumaShare to allow guests to share their videos and photos via iPad. LumaShare will fetch the photos and videos from either dslrBooth or fotoshare.co when connected to your local wifi network or the internet and display them on the iPad. Guests can share their sessions, including videos and photos from their session via Email, SMS, Airdrop, QR Code and more. Download from the Apple app store. A new slideshow feature is coming soon to LumaShare.